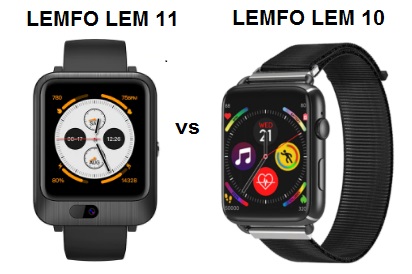 LEMFO LEM 11 and LEMFO LEM 10 are the latest Android smartwatches in 2019. Both are standalone smartwatches with sim card and wifi supports. and they have also the same square design! So, is there any difference between the two watches?
What is the difference between LEMFO LEM 10 and LEM 11?
As we know! both of smartwatches have a rectangular shape, but the look and screen size is different. LEM 10 smartwatch has a slim body with a 1.82-inch screen and 360*320 of resolution. While LEM 11 look more sporty! it has a 1.54-inch screen with 320*320 pixels resolution. Regarding the main features! both of smartwatches have same specs, they powered by MTK6739 Quad-core processor and running Android 7.1. the big difference between the two watches is that Lemfo LEM11 comes with a power bank, while Lem 10 doesn't support it. the full details are in the table below.
Read Also: LEMFO LEM 11 4G SmartWatch Pros and Cons
Device
LEMFO LEM10
LEMFO LEM 11
Display
1.82 inch IPs,
360*320 pixels
1.54 inch, 
320*320pixels
CPU
MTK6739
MTK6739
Operating System
Android 7.1
Android 7.1.1
RAM
1GB and 3GB
1GB and 3GB
ROM
16GB and 32GB
16GB and 32GB
Camera
2MP
2MP
Power bank
NO
Yes
Connectivity
4G LTE, WIFI, GPS,
BLUETOOTH
4G LTE, WIFI, GPS,
BLUETOOTH
Waterproof
IP67
–
Battery
700 mAh
600 mAh
Standby Time
2 days
–
Prices and availability?
LEMFO LEM 11 is available at
Aliexpress for $139.99 – $169.99
LEMFO LEM 10 smartwatch is available at: