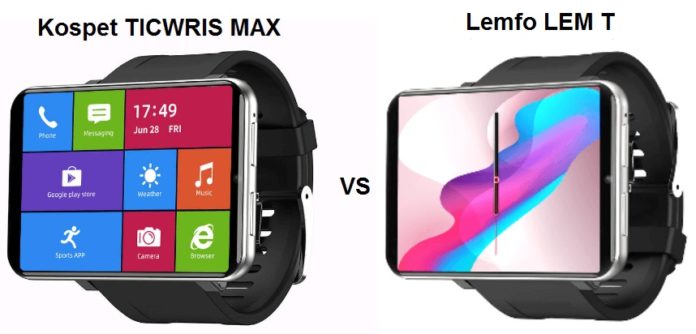 Kospet TICWRIS MAX and Lemfo LEM T are Android smartwatches with the same design. Both have a bigger screen and packed with many smartphone features. LEM T was released by Lemfo in September 2019. While TICWRIS MAS was made it by Kospet in January 2020. So, is there any difference between the two watches?
What is the difference between Kospet TICWRIS MAX and Lemfo LEM T?
As we said! the two watches have the same design. they have a rectangular shape with a big screen size that looks like a mini smartphone on your wrist. but they differ in some technical features, exactly in camera and face unlock supporting. The full details are in the table below.
Kospet TICWRIS MAX 4G Smartwatch Pros and Cons
| Device | Kospet TICWRIS MAX | Lemfo LEM T |
| --- | --- | --- |
| Shape | Rectangular | Rectangular |
| Dimension | 75.2*52*16.6mm | 75.2*52*16.6mm |
| Weight | 200g | 200g |
| Sim card | Nano-sim card | Nano-sim card |
| Display | TFT | TFT |
| Screen Size | 2.86inch | 2.86inch |
| Screen Resolution | 640*480 | 640*380 |
| Operating System | Android 7.1 | Android 7.1 |
| RAM | 3GB | 3GB |
| ROM | 32GB | 32GB |
| Camera | 8MP | 5MP |
| NFC | NO | NO |
| ECG | NO | NO |
| Face Unlock | Yes | NO |
| Heart rate monitor | Yes | Yes |
| Blood oxygen | NO | NO |
| Blood Pressure | NO | NO |
| Waterproof | IP67 | IP67 |
| GPS+Bluetooth | Yes | Yes |
| Connectivity | 4G+WIFI | 4G+WIFI |
| Strap | Silicone | Silicone |
| Battery Capacity | 2880 mah | 2700 mAh |
| Standby time | 3-5 days | 3-5 days |
| Price | $169 | $151 |
Get Your Kospet TICWRIS MAX at Banggood with 43% OFF
GET Your Lemfo LEM T With Best Price