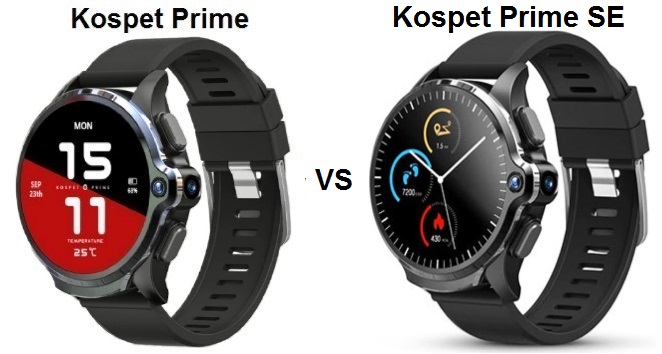 Kospet Prime SE and Kospet Prime are the latest 4G smartwatches from Kospet. Both are Android smartwatches phone with a stylish round shape and smartphone features. Kospet Prime it the first version, which was launched in October. while Prime SE is the latest one that was released This month. so, is there any difference between the two watches?
What is the difference between Kospet Prime and Prime SE?
In fact! there is no big difference between the two standalone smartwatches. just Kospet Prime is the big version with 3GB RAM /32GB ROM, While Kospet Prime SE is the small version at cheap price with 1GB RAM/16GB ROM. the full details are in the table below.
| Device | Kospet Prime SE | Kospet Prime |
| --- | --- | --- |
| Shape | Round | Round |
| Dimension | 60.2*50.2*17.5mm | 60.2*50.2*17.5mm |
| Weight | 86g | 86g |
| Sim card | Nano-sim card | Nano-sim card |
| Display | IPS | IPS |
| Screen Size | 1.6inch | 1.6inch |
| Screen Resolution | 400*400 pixels | 400*400 pixels |
| Operating System | Android 7.1.1 | Android 7.1.1 |
| RAM | 1GB | 3GB |
| ROM | 16GB | 32GB |
| Camera | 2MP+8MP | 2MP+8MP |
| NFC | NO | NO |
| ECG | NO | NO |
| Multi-sports mode | 9 Sports modes | 9 Sports modes |
| Heart rate monitor | Yes | Yes |
| Blood oxygen | NO | NO |
| Blood Pressure | Yes | Yes |
| Waterproof | IP67 | IP67 |
| GPS+Bluetooth | Yes | Yes |
| Connectivity | 4G+WIFI | 4G+WIFI |
| Strap | Silicone | Silicone |
| Battery Capacity | 1260 mAh | 1260 mAh |
| Standby time | 3-5 days | 3-5 days |
| Price | $99 | $149 |
Get Your Kospet Prime SE at Gearbest