Are you looking for smartwatches with ECG and PPG? Do you want to buy an ECG smartwatch at a Cheap Price? In this post! I collected for you the best cheap smartwatches with ECG+PPG function.
What is ECG?
An ECG (electrocardiogram) records the electrical activity of your heart at rest. It provides information about your heart rate and rhythm and shows if there is an enlargement of the heart due to high blood pressure (hypertension) or evidence of a previous heart attack (myocardial infarction).
TOP 7 Best cheap ECG smartwatches with ECG+PPG 2022
North Edge NX88 2022 SmartWatch With ECG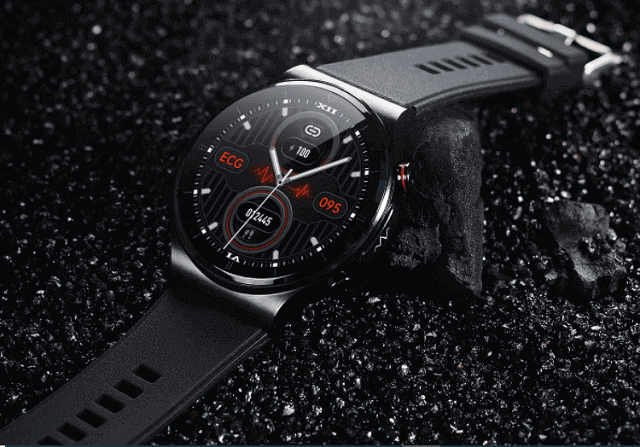 This ECG watch is one of the latest smartwatches from the North Edge brand, which has been released in March 2022. The wearable is a sporty smartwatch that got a circular design with a 1.32-inch TFT screen and is equipped with several features including an ECG Heart rate monitor, a Blood Pressure Monitor, Thermometer, Multi Sports modes, and so on.
The North Edge NX88 smartwatch body is made out of metal alloy with stainless steel shell while the strap is available in silicone and leather. Regarding the display screen! This North Edge NX88 has a 1.32-inch touch retina screen created with a resolution of 360 x 360 pixels. This wearable is also packed with a variety of watch faces and is available only in black color.
SG2 Smartwatch with ECG 2020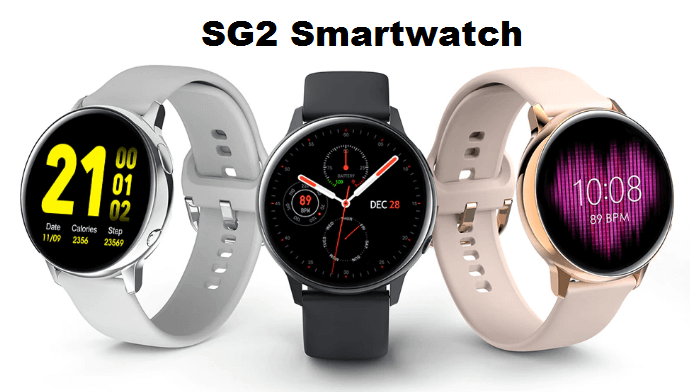 This one of the new smartwatches in 2020, which comes with high specifications both in design and technical functionality. it is an ECG smartwatch with an AMOLED display, Multi watch faces, 10 sports modes, Bluetooth 5.1 and it's suitable for swimming.
The SG2 device comes with a sporty design that compatible with men and women. having a full round shape with two physical buttons on both sides. measuring 42*42*10.9mm and weighing g. The body is made of Zinc alloy while the strap is removable and available in Silicone. Regarding the display screen! The new fitness tracker uses a 1.3 inch 390*390 AMOLED touch retinal screen, which makes your vision colorful and bringing an extraordinary visual experience.
NO.1 DT35 ECG smartwatch with Square Dial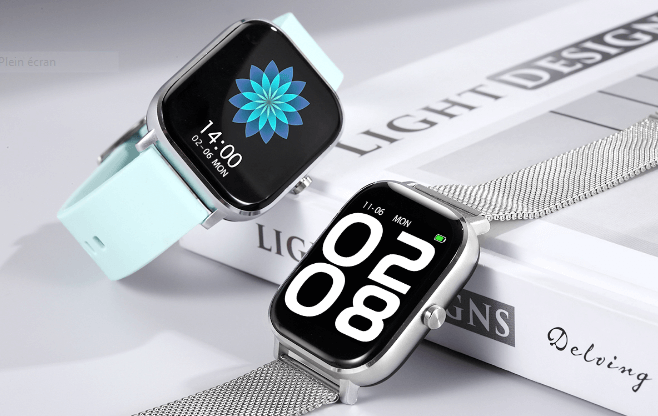 If you are looking for an ECG smartwatch with a square shape at a cheap price. So, DT35 is one of the good choices. As you see in the picture above. the DT35 smartwatch has a square shape similar to the Apple Watch and compatible with men and women. the body is slim and lightweight and that makes it more stylish and fashionable.  Measuring 43.4*36.4*10.4mm and weighing about 27.5g. Regarding the display screen, This new NO.1 DT35 has a 1.54-inch Large LCD touch screen, which is created with a resolution of 240 x 240 pixels.
This NO.1 DT35 is an IP67 waterproof smartwatch, you can wear it when you washing hands or on rainy days but not suitable for swimming. The device has a heart rate sensor, which collects data on our heart rate over 24 hours. This model also helps you to control your sleep, thanks to its complete sleep monitor. It also has a pedometer and allows us to control and estimate the calories burned throughout the day.  The device not only supports smartphone notifications via Bluetooth, but it also supports the Bluetooth call, Thanks to this feature. Additional Features are Blood oxygen and Blood Pressure Monitor, ECG, Multisports mode, and much more.
Microwear L11 ECG smartwatch with Stylish design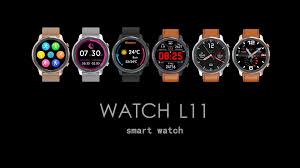 The Microwear L11 comes with a full round shape but slimmer and lighting. which is look stylish compatible with men and women and available in a Multi-color selection. measuring 48*47.5*11.5 mm and weighing about 50g. The body is made of stainless steel with CNC high-speed cutting. Dark grey aviation aluminum ring with complex technical processing and color matching. while the strap is detachable and available in the silicone+leather option. the display screen is full round with 1.3 IPs screen and 240*240 resolution supports full touch screen+press button.
The L11 is an IP68 waterproof smartwatch, It is not recommended that you wear it to swim, because it is not a professional swimming watch. The device can track 10 sports activities! walking, running, swimming, mountain climbing, cycling, skipping, badminton, basketball, football ….etc. it also supports 5 kinds of health monitoring! include heart rate monitoring, sleep monitoring. blood pressure monitoring. ECG and Blood Oxygen Monitor.
NO.1 DT98 Classy smartwatch With ECG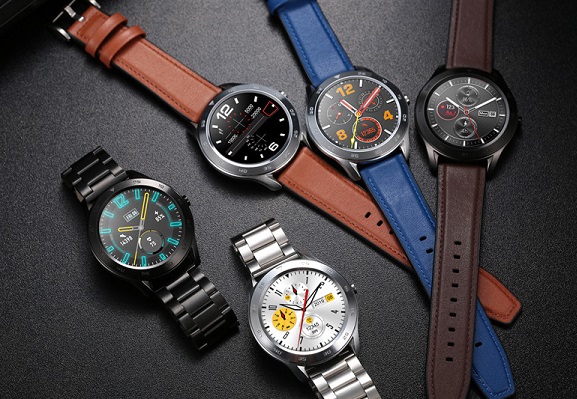 If you are a fan of classic smartwatches! I'm sure that you will like this ECG watch. The smartwatch has a 1.3″ inch IPS color screen with 240 x 240-pixel resolution and supports touch screen operating mode. the body is made of zinc alloy + plastic and weighs 25.6g while the strap is of leather.
The new wearable is an IP68 waterproof smartwatch. You can wear it in water up to 10m deep. The watch can track also your sports activities like running, cycling and climbing. Also, it packed with smart sensors for indoor and outdoor activities. includes Heart-rate ECG, blood pressure monitor, Sleep monitor.
LEMFO ELF2 One of the first ECG smartwatches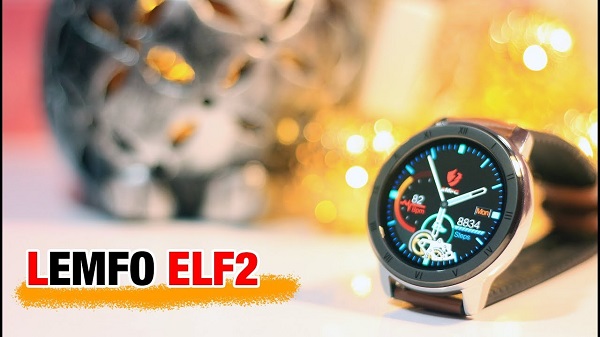 This is the first smartwatch with ECG and PPG from The popular LEMFO brand. it is a classy smartwatch with a stainless steel case and a leather replaceable strap. Regarding the display screen! ELF2 has a 1.3 Inch LTPS full round HD touch screen with 360*360 resolution.
The LEMFO ELF2 powered by RTK8762C chip and an IP67 waterproof rating. The wearable offers six sport modes. from daily activities such as walking, running, hiking, swimming, cycling. so you will be able to understand your exercise status and improve your health. Additional features are ECG+PPG, Bluetooth 5.0, and many features.
DT NO.1 DT68 ECG Watch
This smartwatch has a unique design, which is sporty and classy at the same time. The watch measuring 15*12*3.5cm, weighing 59g, and available in black, green, pink, and red color. the smartwatch has a 1.2-inch full touch HD TFT screen protected by gorilla glass crystal with 240*240 pixels resolution.
The new NO.1 DT68 is an IP68 waterproof smartwatch. It is compatible with men and women. The watch can track also 9 sports activities like running, cycling, and climbing. it also packed with health and fitness features includes Heart-rate ECG, blood pressure monitor, Blood Oxygen Monitor, Sleep monitor. Additional features are mobile payment, sedentary reminders, incoming calls, and Bluetooth 4.2. 
Note: These smartwatches are not professional ECG smartwatches. so you may face some problems with them. Because you'll never find a professional ECG smartwatch under $50. If you really looking for a professional watch with ECG and you don't have a problem with money, so The Apple watch 5 is the best option.