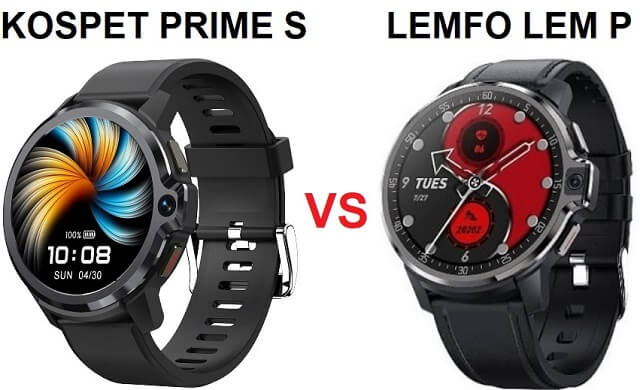 Kospet Prime S and Lemfo Lem P are the latest Android smartwatches from KOSPET and LEMFO. Both are standalone smartwatches that support 4G sim cards, WIFI, GPS, and Bluetooth. The Prime S was released in May while the LEMP smartwatch was launched recently in June 2021. So is there any difference between these smartwatches?
What is the difference Between Kospet Prime S and LEMFO LEMP?
In fact, there is no big difference between these watches in terms of design and technical features. Both wearables come with the same circular design that looks stylish and classy.  They equipped with dual CPUs which make these watches work with duals modes (Standalone watch mode, Fitness tracker mode). The only difference between these watches is that LEMFO LEMP has 4GB RAM, 64GB ROM as well as a 5MP side camera while Kospet Prime S equipped with 1GB RAM, 16GB ROM as well as an 8MP side camera. The full details are in the table below.
Device
Kospet Prime S
Lemfo LEM P
Shape
Round
Round
Dimension
54*54*16.7mm
54*54*16.7mm
Weight
69.5g
69.5g
Sim card
Nano-sim card
Nano-sim card
Display
IPS
IPS
Screen Size
1.6inch
1.6inch
Screen Resolution
400*400
400*400
Operating System
Android 9.1
Android 9.1

RAM

1GB
4GB

ROM

16GB
64GB

Camera

5MP Front Camera
8MP Side Camera

5MP Front Camera
5MP Side Camera

Processor
SC9832E + nRF52832/PAR2822
SC9832E + nRF52832/PAR2822
Dual Mode
Yes
Yes
Face Unlock
Yes
Yes
Heart rate monitor
Yes
Yes
Blood Oxygen monitor
Yes
Yes
Blood Pressure
NO
NO
Waterproof
IP67
IP67
GPS+Bluetooth
Yes
Yes
Connectivity
4G+WIFI
4G+WIFI
Strap
Leather +TPU
Leather +TPU
Suitable for swimming
NO
NO
Battery Capacity
1050mAh
1050mAh
Price
$Check Below
$Check Below
Price and availability?
Lemfo LEM P and Kospet Prime S are available on Aliexpress and Banggood at different Prices. You can select the best price for you.