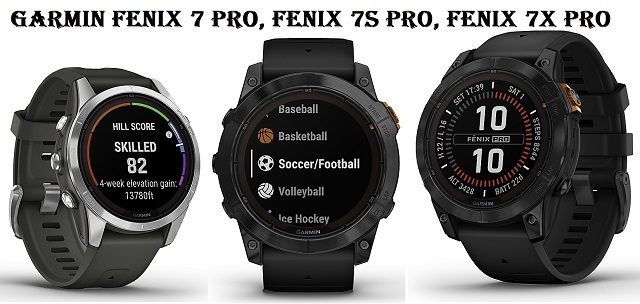 Garmin is gearing up to launch its highly anticipated Fenix 7 series, which will feature a range of flagship smartwatches. The new lineup includes the Garmin Fenix 7 Pro, Fenix 7S Pro, and Fenix 7X Pro, all of which are slated to hit the market in the coming weeks. In addition, Garmin will introduce accompanying Solar and Sapphire Solar models to complement the series. Recent reports have shed light on the pricing details of the Solar models, thanks to a leak from a prominent retailer.
Following last week's reveal of press images by Roland Quandt, more information has emerged regarding Garmin's upcoming Fenix 7 series refresh. As previously discussed, the company has developed Pro versions of the Fenix 7, Fenix 7S, and Fenix 7X, along with Solar and Sapphire Solar variants. While Quandt's images showcased the Solar and Sapphire Solar editions, it is expected that Garmin will also offer "Standard" variants of the Fenix 7 Pro, Fenix 7S Pro, and Fenix 7X Pro.
According to a recent discovery made by @fttest_en, pricing details for the Solar Edition models of these smartwatches have been unveiled. Surprisingly, the Pro models will be priced similarly to their regular counterparts, at least for the Solar Editions, excluding any ongoing sales. Consequently, the Fenix 7 Pro Solar and Fenix 7S Pro Solar will be available for CHF 849.90 (approximately US$945), while the Fenix 7X Pro Solar will retail for CHF 949.90 (around US$1,057), a CHF 100 (approximately US$111) increase.
Building on the leaked information from last week, it appears that Garmin has equipped the Pro smartwatches with an enlarged heart rate sensor, likely incorporating more LEDs to enhance accuracy. The purpose of the metallic contacts surrounding the new sensor remains uncertain, although speculations from Gadgets & Wearables suggest they could potentially facilitate ECG readings. Garmin is expected to officially announce the new models from the Fenix 7 series later this month, with a possible release in early June.