After a long absence! Allcall is back again with a new Android smartwatch called Allcall Awatch GT. it's a smartwatch phone with Dual camera, Face unlock, Huge battery, 3GB of RAM, 32GB of ROM and runs Android 7.1. before to get into this watch, I recommend checking its second version, Allcall GT2. So, let read the full details!
Design of Allcall Awatch GT?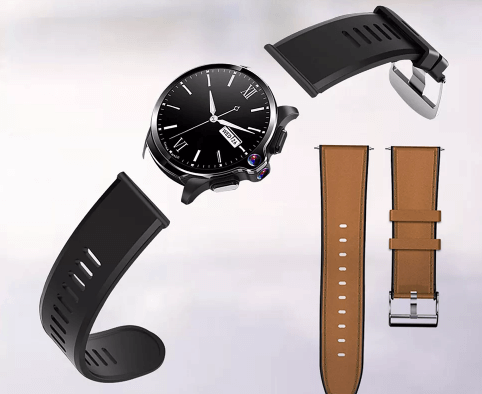 from the first look! you'll find that the new Allcall GT has a similar design of Kospet Prime smartwatch. which is full round and classy. measuring 60.2*55*17.9mm and weighing 84g. the body is made of a plastic case with ceramic bezel while the strap is available in silicone (it's Interchangeable). on the side of the panel! you will find two physical buttons with 8MP of the camera while the other 2MP camera is in the front. Regarding the display screen! The GT watch using 1.6 inches IPS full-round display with 400*400 resolution.
Features of Awatch GT smartwatch?
The Awatch GT is powered by the MTK6739 Quad Core processor with 1.25GHZ frequency. it also has a big internal memory and RAM, 32GB of ROM, and 3GB of RAM and running Android 7.1.
The new Allcall watch GT is a standalone smartwatch with no phone needed. supports 4G sim card, WIFI, Bluetooth as well as GPS and GLONASS. and it's the second smartwatch with face recognition technology ( face unlock). it's also built-in multi-sport modes that include walking, running, ride a bike, badminton, ping pong .. etc. additional features include IP67 waterproof, heart rate monitor, pedometer, and many more. The watch also has a 1260 mAh battery capacity with 3-5 days standby time.
New! ALLCALL GT2 Android 4G SmartWatch 2020
Pros and Cons of Allcall watch GT?
Pros: stylish design, Android 7.1., 3GB RAM/32GB ROM, Dual camera, big battery, Face ID, removable strap
Cons: Not suitable for swimming, GPS will quickly drain the battery
Price and availability?
The new Allcall GT is available on Amazon and Banggood with different Prices. You can select the best price for you.